---
Most important new additions to this site as of September 19, 2000
New: The first part of the much-debated relashionship between Nietzsche and Lou von Salomé has been added to this site. Oberall, three parts are planned for this section, and in keeping with this, additions comprised of parts 2 and 3 will followt.

On the music page, you will find three new compositions of Nietzsche: On the one hand, two piano pieces from 1862, a Mazurka and a Gypsy Dance, as well as one of his most important compositions, the music to his Hymn to Life, of the poem Lebensgebet by Lou von Salomé from 1882!

Take part in our Nietzsche Forum: What does Nietzsche mean to us today? How do you view his statements? Your comments will immediately be uploaded to this page! First contributions can already be found.

Now you have the chance to access Nietzsche's works and to conduct a text-search at my partner-site virtuSens (see "Werke" to the left). Dort neu aufgenommen: Die Vier Unzeitgemäßen Betrachtungen sowie die Nachgelassenen Fragmente von 1869-1883 in 7 Sektionen! Sie finden dort auch neue Fotografien von den Nietzsche-Stätten und aktuelle Meldungen.
Ein weiteres Bonbon: Sie können mit dem Volltext wie mittels Wortsuche an der Gestaltung bzw. für Ihre eigenen Zwecke mitarbeiten! Denn es besteht dort nunmehr die Möglichkeit, private oder öffentliche Anmerkungen (nach entsprechender kostenloser und einfacher Anmeldung) einzugeben, die dann entweder nur für Sie oder auch für alle Leser gespeichert werden und auf Mausklick aufrufbar sind. Für alle, die sich intensiver mit Nietzsches Texten befassen, eine tolle Sache!

On the occasion of the 100th anniversary of Nietzsche's death, I have, IMHO, added quite an important text on Nietzsche's philosophy: An excerpt from the very likely first lecture on Nietzsche's philosopy in Germany, by Raoul Richter, extraordinary professor at the University of Leipzig, from the year 1903. This (German) text can be found in the section Philosophy.

Various new documents, mainly pictures and photographs, for the greater part taken by myself, during my journey to places important in Nietzsche's life, in Bayreuth, Naumburg, Röcken and Weimar, which I will add on an ongoing basis, particularly on the pages Röcken, Jugend and Wagner.

Information with respect to current exhibits and events during this anniversary year

Book tips and reviews of newly published books

A press review of the most important newspaper and itnernet articles
---
Nietzsche-Stamp of the German Post Office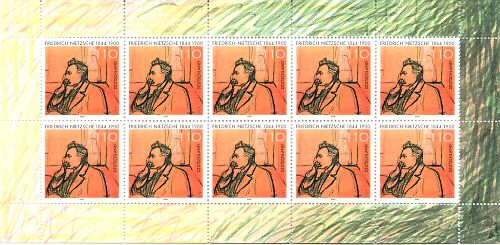 Even officially, the Nietzsche Anniversary has found acknowledgement in form of the German Post Office edition of the above Nietzsche stamp.
---
Nietzsche-Exhibit in Bayreuth in the Richard-Wagner-Museum
Concurrently with the present festival season, the Richard Wagner Museum is holding an exhibit at Villa Wahnfried on the topic of Friedrich Nietzsche and Wagner; unfortunately, the labyrinth of items on display is not held together by a common thread, so that one is confronted by their relative chaos and can not gain a well-founded impression of one of the most important meeting of minds of the 19th century.
Most touching are, however, the originals of the three notes sent to Cosima by Nietzsche on January 3, 1889, of which I am featuring one on the Turin-Page.
---
Nietzsche-Exhibit in Weimar on the occasion of the 100th annoversary
of Nietzsche's death, from April 16 to December 31, 2000 in the Schiller-Museum
"Wann ist der Gotthardtunnel fertig?"
The exhibit is divided into nine sections which deal with various parts of Nietzsche's life: Das Kirchenschiff (the Nave) - Kleinstädtische Enge (small-town constraints) - Das Internat (the Boarding School) - Philologe und Artillerist (Philologist and Artillerist)- Professor und Sanitätshelfer (Professor and Military First Aide)- Auf Reisen (Travels) - Im Wahnsinn (Mental Illness) - Die Schwester und das Nietzsche-Archiv (Nietzsche's Sister and the Nietzsche Archive) - Nachwirkung (Lasting Impact)
For this great wealth of original document--from school reports to further 'insanity notes' (of these, you will also find something on my respective pages)--you should take your time, and do not miss to obtain, either directly at the museum or in a book store, the nearly 1000-page-catalogue of this exhibit!
The task of holding commemorative speech on the occasion of the 100th anniversary of Nietzsche's death in Weimar on August 25, 2000, has, as might 'almost be expected', been entrusted to Peter Sloterdijk ... He will, in continuation of his speech at Elmau, speak on Humanism and Nietzsche ... subject: "Über die Verbesserung der 'Frohen Botschaft' - Nietzsches Überhumanismus". Place and time: Weimar, in the Theaterkubus in the park at the Ilm, 11 a.m., admission DM 10.-
---
International Convention and Commemoration Week of the 100th Anniversary of Nietzsche's Death
from August 19 to 27, 2000 in Naumburg
"Zeitenwende - Wertewende" is what the hosts of this event call it in order to commemorate this event in one of the places important to Nietzsche's life; recently, I have taken a look around in Naumburg and can only recommend a visit of this city. The restoration of the beautiful town center that reminds one a little bit of Erfurt, has come a long way, already, and the Cathegral and its famous scupltures of its two founders need almost not be mentioned in particular - hwoever, also the Nietzsche house at the city wall is worth visiting. A small, yet very fine exhibit on Nietzsche's yuth and stays at Naumburg (don't forget to take along a very excellent catalogue of this exhbit that offers more for DM 5.00 than many a biography!) Some photographs and pictorial documents have been newly added to the Jugend-Page of this web site.
Further information on this Naumburg event can be obtained via the internet at www.nietzsche2000.de.
---
---
The Book Tip regarding Nietzsche's Anniversary
Perhaps - at least in my opinion - the most important publication on the 100th anniversary of Nietzsche's death:
Rüdiger Safranski: Nietzsche. Biografie seines Denkens
published by the Hanser Verlag, Munich, 416 pages, DM 45,00

Rüdiger Safranski will be honored with the Friedrich-Nietzsche-Prize of the German State of Sachse-Anhalt on August 25, 2000.

In the Press Review section of this site, you will already find a first review of this book!
---
And another Book Tip: Correspondence with Overbeck
At last, Nietzsche's most important friendship can be read up on directly in a publication of their correspondence:
Friedrich Nietzsche/ Franz und Ida Overbeck: Briefwechsel
Edited by Katrin Meyer and Barbara von Reibnitz; J. B. Metzler Verlag, Stuttgart/Weimar 2000; XXXII, 535 pages., 88,- DM

A review by the ZEIT (and of additional important new publications) by Ludger Lütkehaus can be found atr http://www4.zeit.de/tag/aktuell/200035.st-nietzsche1_.html.

If that is not enough, the ZEIT also offers two further noteworthy articles on the Internet:
---
You are visitor no.
. since August 16,.2000. My thanks for this counter go to http://www.digits.com/